Tech Transition: Challenges and Opportunities for Veterans in Enterprise
Add bookmark
---
---
---
As part of our Editorial Theme for 2020, Defence iQ is collaborating with a cross-section of individuals within and outside the traditional Defence community to gain their perspectives on how the Defence Enterprise as a whole is adapting and innovating in the Digital Age. We are exploring subjects relating to leadership, institutional culture and process, people management and skills, tech design and acquisition, fostering debate and discussion on the concept of 'innovation in Defence'.
We spoke with William (Bill) O'Donnell, a former Intelligence Analyst and Program Manager for U.S. Air Force Special Operations Command and now drone entrepreneur, voice actor and Emmy award winner, to get his thoughts on veteran transition programmes, the challenges he faced when moving into enterprise, and life after the military.
Bill, when you reflect on your transition period as an airman and consider where you are today, how would you describe how you felt about opportunities that were available to you at the time and, where did you feel like you could have used more help opening doors?
My time in the service was cut a little short due to a broken leg that required major surgery. It has taken a few years to even begin running again, so when that happened I knew immediately that many of my military aspirations would come to an end shortly thereafter. I did not really know where to even begin looking at the time as it was quite an abrupt change of events in my life. My wife is active duty air force as well, so it becomes a whole new bundle of problems every time she moves.
Fortunately, I managed to get a position as a government civilian, which helped me still contribute to the fight, but once we moved to Nellis AFB, I had to begin again. I leveraged LinkedIn to send my resume directly to the person in charge of the drone test site in Nevada, and secured an interview, and eventually the job. I know that social media sometimes gets bad reputation for many things, but it has always come in handy whenever I need to reach out to old connections, friends, or colleagues.
Many veterans seeking to transition into a high-skill sector have expressed experiencing anxiety and stress during transition because they felt unprepared, typically in the areas of business vernacular and being competitively marketed. What were the three biggest challenges for you?
When I first entered the business world, there were a few things I had to overcome from my military days, including the way my tone came off to people. A lot of times, military work is straight and to the point, everybody understands their roles and gets the job done. The civilian world sometimes needs a little more coaching at things, with a much lighter touch. I am still too often described as "intense", which is something I have worked on scaling back. Networking is another key component of the civilian world that is not truly understood the same way in the military in a few different areas.
As far as vernacular goes, it's imperative that veterans take responsibility for their business acumen. There's a strong sense of irony here, as a lot of business acumen only became mainstream in industry when the government and military adopted it, like Six Sigma for example.
In the military, we are constantly reinventing our processes and creating efficiencies, it's a natural part of defense culture. Those skills are valuable in the private sector but, veterans need to know how to communicate them. It doesn't mean a lot to be an award winning NCO to a hiring manager with no military experience; but to say you're a Six Sigma Black Belt carries a lot of value. Unfortunately, there's no 'Rosetta Stone' for veteran transitions, so the responsibility is on the service member and, I admit, it can be a tremendous, frustrating challenge. Luckily, one of the great things about most veterans is that we respond well to challenges.
You've obviously worked very hard to establish yourself and your career, after the military, outside of the defense industrial base. The DOD also does a pretty good job transitioning service-members into the high-skill sectors of the defense industrial base and lower-skill labor sectors both inside and outside the industrial base. Can you give some advice to current veterans, and current veterans transition program managers on how they could better position veterans to get into high-skill business sectors outside of the industrial base? What are some practices existing transition programs may be doing that could be harming veterans access to these high-skill industries?
A good thing a future veteran can take away from this is to start paving the path to your future early, and be prepared to take detours. Many people I see do the education piece while in the military, but then leave things dormant in that future career field until they get out. It's never too early to start building relationships and networking either at social gatherings or online. Even if you have years still left in the military, it is only beneficial to get involved in some way with your future career field by either attending conferences on the subject matter, or reaching out to people early getting information on the job landscape.
There also seems to be a misconception that leadership experience in the military will directly carry over into a leadership role in the private sector, where a lot of the soft skills and tangible certifications that underpin corporate HR needs aren't very transparent. That's another added value of networking early, where you have an opportunity to understand and access a bit of the inside information that's pretty well-known to those outside the military but, can take a little more focused effort to find for veterans.
In terms of what military transition programs could be doing better: it's marketing. When you Google 'veteran transitions', you're not immediately overwhelmed with images that 'wow' you. Presentation has a lot to be desired, and the process should be more individual-focused. When you consider the rigor and depth of thought that goes into recruit training, for example, compared to the thought and resources put into transitioning veterans into the private sector, it's a bit disproportionate.
In recruit training, service members spend weeks on end, day and night, with the most experienced, passionate instructors the military has to offer by personalities and mentors we never forget. Transitioning out is far less personal, overly industrial, and starts and ends a bit too late and too fast. The amount of information presented at transition seminars can be overwhelming, especially considering all the other lifestyle changes going on with family, relocation, school, and military administration. It can seem a bit hurried and I understand how some veterans can get discouraged.
A veteran should never separate with honorable service and feel 'out processed', especially when the military does such a great job at tracking down successful veterans once their post-military careers take off.
What's been the highlight of your military and post military career and what's next for Bill?
Life continues to amaze me, so far it has been the Emmy award win; a dream I never knew I had. It has already opened up doors in many different areas, including a future TV show I recently filmed a pilot episode for as the host. I have tried to be the best at whatever I am doing, and dedicated myself to my ever changing craft; and that has carried me through many different career moves. I hope to stay strong with my family life, and let life take me on the adventure by not getting hung up on the details.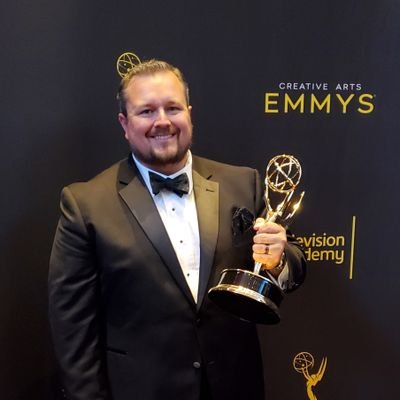 From Special Ops to Tinsel Town: Bill won an Emmy in 2019 for his drone work on the Late Late Show.
William O'Donnell served in the United States Air Force as an intelligence analyst. During his time in service, William assisted with critical intelligence for Air Force Special Operations Command, and after military service he would serve as a Special Operations Program Manager, standing up the exploitation capabilities of DGS-5 in Hawaii. William left the civil service and was the program manager for the FAA Designated Test site for Unmanned Systems in Nevada.
After William left the test site, he and a few veteran friends created AviSight, a company specializing in drone services in a variety of different commercial areas, leveraging their skillsets from the military and work in the unmanned systems realm. William has worked as a NASA drone test pilot during TCL 4, an FAA drone test pilot in UAS Traffic Management Pilot Program (UPP), as well as win a primetime Emmy award for his drone flying for the James Corden Show, one of the first drone pilots in the nation to win a Primetime Emmy. William is also a voice actor, and has recently recorded a pilot for an upcoming TV show that he is the host.